---------------------------------------------------------------------------------------------------------------
BACK TO THE BEGINNING IN JULY 2011, THE FIRST CONSULTATION PICTURE - Stinky smelly right ear complaint. A simple case of necrotic otitis externa? No.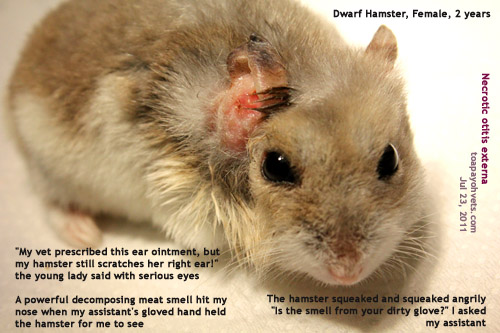 Case recorded at 2 webpages:
http://www.sinpets.com/hamsters/20110808dwarf-hamster-break-a-leg-a-ear-Singapore-ToaPayohVets.htm

http://www.sinpets.com/F5/20110732hamster-otitis-externa-bone-tumourop-Singapore-ToaPayohVets.htm

2ND CONSULTATION AND SURGERY - EAR CANAL ABLATION FOLLOW UP. RIGHT EAR WAS STILL ITCHY. IRRIGATE WOUND - MORE YELLOW PUS AND GRANULES FLUSHED OUT
Case recorded at:
http://www.sinpets.com/F6/20110725reasonable-man-test-court-of-law-Singapore-ToaPayohVets.htm

3RD CONSULTATION AND SURGERY - BIG CYST AND TWO BIG ABSCESSES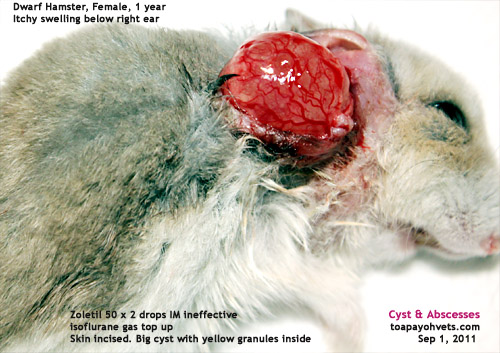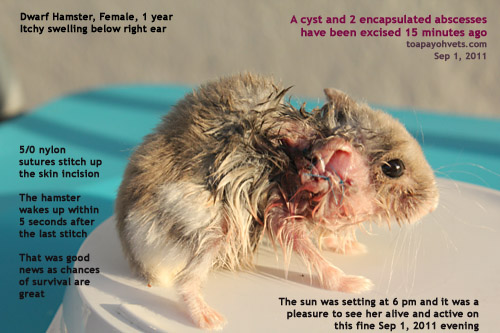 There appears to be another two abscesses in front of the blue stitches. I did not continue incision to drain it as the surgery had been over 15 minutes. Any more anaesthesia would result in a death on the operating table. Some days later, the area became inflamed (see first picture).

Case recorded at:
http://www.sinpets.com/F6/20110906dwarf-hamster-cyst-abscesses-ear-canal-ablation-singapore_ToaPayohVets.htm

E-MAIL FROM OWNER DATED SEP 4, 2011 REGARDING RED AREA IN HAMSTER EAR ABOVE AND BEHIND THE RIGHT EYE. THREE ANAESTHESIAS AND SURGERIES HAD BEEN PERFORMED BY ME.

Thanks for the follow-up, Dr Sing.

E-MAIL FROM DR SING DATED SEP 5, 2011:

> Thanks for the picture (below). There may be some growing internal abscess/cyst in the reddish area to the upper right quadrant of the ear canal opening. That is why the hamster is scratching it as in the previous time.
>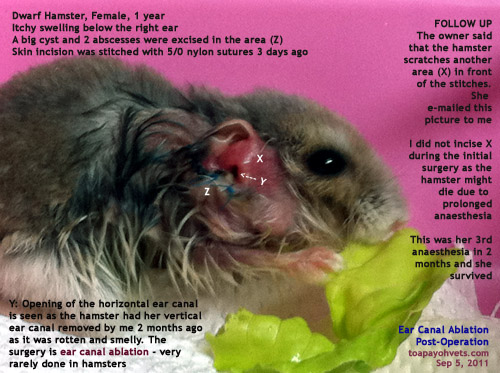 > See if the medication can work.

The hamster came in for the 4th anaesthesia and surgery. The lady owner was very worried as the risks of dying on the operating table increase with every anaesthesia. But there was no choice as the hamster could not stop rubbing her right ear (XY). The surgery is shown below:

4TH CONSULTATION AND SURGERY - RIGHT UPPER QUADRANT SWOLLEN WITH PUS - TRACKED DOWNWARDS TO BEHIND THE MOUTH
LATEST STATUS AS AT SEP 22, 2011
As at Sep 22, 2011, the hamster is recovering. Had passed loose stools. Stopped the vegetables. I have advised small amounts of mashed pelleted food and water, hand-feeding 10X/day as the hamster ate little and drank less. Continue the melon seeds. Very nervous when the owner handled her as well as when I did it prior to surgery. This was to be expected as she is in pain. Surprisingly, no major facial nerves appear to have been damaged by the large vertical incision to flush out the yellow purulent granules.

E-MAIL FROM OWNER DATED SEP 22, 2011

Thanks for checking in. XXX is active. Her wound is dark and dry around the edges but moist in the centre. (will try to take a photo) Sometimes, the wound has that odour, even after swabbing. She grooms and rubs the area quite often.
She is being given water from a syringe (0.05ml every 3h or so) and seems to urinate fairly regularly. Her stool count is still under 10/day but the consistency of the stools appears to have returned to normal.
She nibbled on the mashed up food pellets once, but on subsequent occasions, did not want any. She is willing eat (perhaps two or three) sunflower seeds that have been shelled for her and also seems to like this triangular black seed (can't identify) from the mix. Will mash up some peanuts and see if she will eat that. Will also try to find a proper weighing scale.

E-MAIL REPLY FROM DR SING DATED SEP 23, 2011

I did smell this rotten bad smell when I operated recently on your dwarf hamster. It was a faint foul smell from the wound and did not persist. The smell is from the bacteria deep inside the wound. It could be an anaerobic type of bacteria.

Buy a bottle of 6% hydrogen peroxide from the pharmacy. Put some on the cotton tip and try to swab deep inside the wound once or twice per day. If the smell persists, the hamster needs the antibiotics. This will be given, if necessary, after she has produced normal stools.
It is a long story of worries for the lady owner. Four short surgeries and anaesthesias in this case provided a good clinical outcome. What the owner wanted is a hamster alive at the end of surgery. The hamster is family but it is a very high risk anaesthesia doing ear canal ablation, cyst removal and making such big incisions. Therefore the responsibilities of the vet are much higher and worrying when dealing with such a complex surgery. Post-op nursing care and hand feeding are especially important to the survival of this hamster. She has the strong will to live. The owner must know how to prevent dehydration, malnutrition and diarrhoea and she is doing a good job. But that "rotten smell" comes back again.

A complete surgery in one anaesthesia would be perfect and ideal in theory. In practice, it would be a dead hamster on the operating table as it would be too stressful for any dwarf hamster, especially old ones like this case, to undergo more than 15 minutes of surgery, unlike in a dog or person. In one dog, I did a massive bilateral perennial repair for 2.5 hours. There was no stopping in such surgeries as the big hole in the backside cannot be partially repaired for the next time. The old dog survived and it was a happy ending for an old companion. Case at:
http://www.bekindtopets.com/animals/20100625
constipation_perineal_hernia_old_Boston_Terrier_male_singapore_ToaPayohVets.htm

This dwarf hamster has a sibling. No problem at all. What was the cause of this necrotic otitis externa? Definitely there was a type of bacteria producing bad smells (as in rotten teeth in a bad dog's breath). Where did it come from originally? From the cheek pouch perforation? From the ear canal? From the rotten tooth root? It is not possible to say as the hamster is so small that it is not practical to X-ray to help determine the cause.