The dwarf hamster was operated by me at the 3rd time for a stinking right ear problem. The vertical ear canal was excised (ear canal ablation surgery) and subsequent recurrence of infection for 2nd operation and the 3rd surgery was the big cyst excised. The case study is in this webpage.
Now, a red swelling and pus discharge (from image sent from owner) from the horizontal ear canal and e-mail query on medication as follows:
E-MAIL TO DR SING DATED SEP 11, 2011
Hi Dr Sing,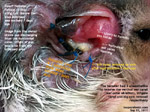 Bean will complete her 7-day course of anti-biotics this evening. But there is a yellowish lump?/discharge? (photo is attached) She also rubs her ear quite vigorously sometimes. Should I continue to give her antibiotics for a few more days? And the anti-inflammatory med as well? Appreciate your advice please.
Thank you.
E-MAIL FROM DR SING DATED SEP 11, 2011
Just read your email but we spoke by phone earlier. Discharge is pus originating from the inflamed lump. Pl press it gently to get the pus out. Continue medication as spoken. Best to phone me rather than e-mail or text as sometimes I don't read emails immediately.