"His tail is always down" complained the ex-traffic policewoman owner of this handsome looking 10- year-old crossbred terrier with a luxurious coat that would make a younger dog envious. He had constipation for over 2 weeks. 2 years ago, the 8-year old dog had passed blood in its stools. The Owner had 3 veterinarians to check on this dog. No kidney stones shown on X-rays in one practice sometime ago. Now it was reluctant to walk down the 14 steps from the apartment to the lift unless the Owner sang a tune. Definitely not happy to climb up stairs.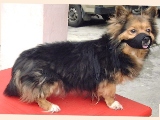 In Singapore, the older HDB apartments which house 90% of the Singaporeans don't have lifts at every floor level. Intense pain on palpation of sacral area. This was a spinal disc prolapse case. Long-bodied dogs over 5 years may have spinal disc prolapse problems. The cause of severe pain in the sacral area, between the left and right hip bones, above the tail could also be due to traumatic injuries.

Do check with your veterinarian if your dog exhibits abnormal behaviour.