April 13, 2009,
Dog Owner XXX wrote:

Dear Dr. Sing,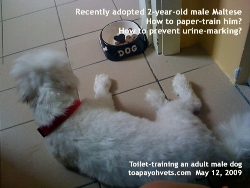 I came across your blog http://puppytoilettraining.blogspot.com/ through google & was wondering whether I can e-mail you for some advice.

I've just adopted a 2-year old Maltese on Saturday afternoon & he's been with me for 2 nights.
Previous owner caged him up for almost a year with hardly any run-around play time because of certain circumstances. He's kinda paper-trained. But what I would like to do is to get him used to his new environment whereby he does it in the toilet instead, but still on paper.

Is it the right way to train him if I were to confine him in just the toilet area with the paper within? Food & water to place on another side.

Warm Regards,
XXX

From: Kong Yuen Sing
Sent: T

uesday, April 14, 2009


To: XXX
Subject: Re: Newly Adopted 2- year old Maltese

Thank you for your email.

As each dog behaves differently, I can only propose the following which may be suitable as your dog is mature and almost paper-trained:

1. Keep dog in toilet for 2-4 weeks but with a baby gate so that he can see you.
2. Place newspapers 100% on floor.
3. Place dog's urine smell on newspapers (use 2nd piece of newspaper with urine).
4. Observe the location where the dog pees and poops (usually away from sleeping area).
5. Reduce the papered area by 50% gradually over 1-2 weeks such that his toilet location is the newspaper.
6. Say "pee here" (on newspapers) and give food treats on success (if you are around). Persevere.
7. Change soiled papers promptly.
8. Open the baby gate but not to give the dog excessive area. Increase the area of freedom by a room and monitor. If dog goes to paper by himself, you give praise and food treats. Persevere.
9. Neutralise "accident" areas of peeing with white vinegar:water 1:3
8. Let me know how long you will take to succeed.


April 23, 2009 & April 24, 2009 Reply in Capital Letters

Dear Dr. Sing,

Appreciate your e-mail.

Can I get your advice based on my schedule & how things have been for the last week.

Date of Adoption: 11th April 2009
Age: 2 year old Maltese, Male, Not Neutered

I've been keeping DDD in the kitchen with the newspaper on a pee pad nearer the other end just outside the toilet. I'm usually away from home from 8a.m. - 7.30p.m. After which I'll let him out to roam the house & follow me. At night I'll put him away in the kitchen again from 11.30p.m. - 7.15a.m. Between 7.15 - 8a.m. before I leave house, I'll play & cuddle him a little whilst preparing myself for work. He's been great so far!!! Knows how to pee on the newspaper but because he's left alone during the day without any change in newspapers, there was one time he accidentally stepped on his poo Other times, he mis-aimed & poo is either on the floor right next to the pee pad, or there's a small puddle of pee on the floor instead. How do I handle & prevent this situation?

HE WANTS TO AVOID THE SOILED PAPERS WHICH ARE NOT REPLACED DUE TO YOUR ABSENCE FROM HOME (YOU ARE WORKING). TO YOU HE HAS "MIS-AIMED".

SOLUTIONS:
1. A friend comes to your house to replace the soiled papers with new ones at e.g. lunch-time.
2. PLACE NEWSPAPERS IN 3 OR 4 SPOTS IN THE KITCHEN SO THAT HE HAS A NEW TOILET-AREA. SOME OWNERS DO THAT. ARE YOU DOING IT?
3. JUST COVER THE KITCHEN FLOOR WITH NEWSPAPERS EXCEPT HIS SLEEPING AND EATING AREA.

Another enquiry is that ever since he's been staying with me, every night when he's placed in the kitchen, he whines & scratches the kitchen door. I have yet to get a baby gate.

DOG MAY BE SUFFERING FROM SEPARATION ANXIETY AS HE CAN SEE YOU. THEREFORE SCRATCHES DOOR TILL IT IS DAMAGED. BEST YOU GET A BABY GATE OR PUT A HIGH FENCING USING PLAYPEN PANELS. THE PUPPY IS A SOCIAL ANIMAL AND SHOULD BE HAPPY JUST TO SEE YOU BEHIND THE BABY GATE.

Things got worse last night when my parents came back. DDD had to re-adjust to new-comers in the house & he refused to go into the kitchen. Even my usual method of throwing treats to one corner of the kitchen to distract him to go & stay in the kitchen didn't work this time. I had to chase him round the house for a while before being able to carry him into the kitchen.
NO OTHER WAY THAN TO CATCH HIM AND CARRY HIM TO THE KITCHEN. HE JUST DOES NOT WANT TO BE FENCED UP OR LOCKED UP. THAT IS WHY HE REFUSES TO GO TO THE KITCHEN DESPITE FOOD TREATS ETC. HE IS GROWING UP AND BECOMING WISER TO YOUR 'MANIPULATIONS'.

NO, I DOUBT HE WILL BE SCARED SINCE YOU DON'T PHYSICALLY HIT HIM LIKE SOME PUPPY OWNERS. YOU MAY NEED TO BE MORE COMMANDING TO GAIN HIS RESPECT. I GUESS YOU ARE MORE A FRIEND THAN A PACK LEADER TO HIM. SO HE BEHAVES BY NOT LISTENING TO YOUR GENTLE FRIENDLY TONES.

Is this the right way? Is he scared of me unduly? Cos i dont' want that to be the case :( :(

Please advice.
Thanx!!!!!!

Warm Regards,

XXX



From: XXX
Sent: Friday, May 08, 2009 6:08 PM
To: 'drsing@toapayohvets.com'
Cc: 'judy@toapayohvets.com'
Subject: 459. Toilet-training OLDER DOGS - a 2-year-old Maltese (http://puppytoilettraining.blogspot.com/2009/04/459-toilet-training-older-dogs-2-year.html)

Dear Dr. Kong,

If you remember, I wrote to you some time back on April 24 about certain issues with regards to toilet-training my 2 year old newly adopted Maltese. You very kindly gave me some advice! Thanx for that ! :)

Meanwhile, there are some developments that I wanted to update you about & ask for further advice.
I have also attached some images to this e-mail so that you can see our current kitchen that we are placing DDD, our Maltese in.

In my previous e-mail, I indicated that he seemed to know how to go to pee on the newspaper that I've placed in the kitchen toilet.
At times, there were 3-4 accidents when we let him outside the kitchen area into the living room or dining areas whereby we were not observant enough to catch him in time to bring him to the kitchen toilet area. But surprisingly, there were also 2-3 other times whereby he actually walked into the kitchen toilet from wherever else he was in the house to pee on the paper! So, it seemed like things were improving.

However, in the last 4 days, things suddenly seem to have taken for the worse.
Previously, when we leave him in the kitchen during our working hours 8a.m. - 6.30p.m. & at night when we sleep between 10.30p.m. - 6.30a.m.; he will always pee on the kitchen toilet newspaper. As of Tuesday , 5 May 2009, he started peeing at 4 different spots around the kitchen! Near the wall ledges & even the fridge corner. What's causing this behaviour? Is it because he is not fully toilet-trained or is he doing it on purpose? He is currently not sterilized. Is this causing him to "mark territory" as some people call it?

Given this situation, does it mean that I should go back to your initial instructions of teaching him from scratch?
i.e. confining him in just the small kitchen toilet area.

As of now, during DDD's time alone, we place him in Kitchen areas II & III. When we are home, we will extend the space to Kitchen area I & then from 8p.m. - 10.30p.m., he's allowed to roam the living room & my study room.

My parents & I have actually been using negative reinforcement upon advice from other dog owners. i.e. whenever he peed in a wrong spot, we'll bring him there, let him smell the area & spank his backside with our hands 2x, saying no at the same time. But immediately after, we'll then guide him to the kitchen toilet newspaper & say "pee here" & "good boy", cuddling him a little there at the same time.
Saturday,

May 9, 2009

10:32 PM
From: Dr Sing
To: XXX

Thank you for your email. You are very patient with the grown up dog and take a lot of time to train him with lots of love and positive reinforcement training.

Yes, your male dog is urine-marking. This is a natural behaviour. He should have been neutered at 6 months of age to prevent this behaviour. Neutering now will help but the success rate is not as high, according to some of my dog owners.

POSSIBLE SOLUTIONS TO URINE MARKING PROBLEMS:
1. Confine to crate at all times for 2-4 weeks except when you are able to supervise him at all times (see paragraph 4).
2. Neuter him.
3. Allow him to come out of the crate before breakfast, lunch and dinner. But bring him outdoors to pee and urine mark.
4. Neutralise "urination" areas with white vinegar:water 1:3 with piece of cloth a few times esp. vertical areas with urine marking.
5. Allow him out of the crate when you are at home and able to supervise him closely in case he wants to urine-mark.
6. This routine gives him a chance to urine-mark outdoors e.g. tree trunks and not make your apartment smelly. It is not a good community advice from me. It is best to neuter the dog to reduce the anti-social behaviour of urine-marking although it is not a guarantee. In most cases, with my suggested routine mentioned above, the dog stops urine-marking inside the apartment.

7. So far, I have one case mentioned above. The owner of a male 1.5-year-old Miniature Schnauzer had a similar challenge as yours. Her teenaged daughter was against neutering and therefore the male dog urine-marked all over the apartment, causing considerable distress to the mum over the past year. There was a maid to clean up but the apartment started to smell. The dog started to urine-mark the carpet in addition to any furniture and vertical surfaces he could find.

The modern Singapore mum does pamper the progeny and therefore the maid has to clean up every time the male Schnauzer urine-marks. He even did it on the carpet. The dog came in for vaccination and I got to know that the mum was living with this problem for the past 1 year. The teenaged daughter seemed to understand the mum's distress during our discussion. She reluctantly agreed to neutering which she considered as "cruel" and did some research on the internet as regards vasectomy and phoned me. I told her that vasectomy would not resolve this urine-marking problem.

The dog was neutered. I kept the dog in Toa Payoh Vets for 10 days while she got her maid to neutralise the apartment. At Toa Payoh Vets, we took the dog outdoors 3 times a day, after meals. He controlled his bladder till he was outdoors. The owner continued the same routine of outdoor exercise 3x/day and confinement in a crate (or balcony) when not supervised. For the past month, there has been no urine-marking inside the apartment. The mum was so happy. It is very difficult to remove urine smells from carpets and that was what was distressing her so much.

I hope the info helps.
May 11, 2009
XXX wrote:
Thank you for your reply!
So, just to confirm that based on what I've been doing in terms of confining in the kitchen areas etc..it's the right thing to do?

Yes, you did the right thing.

1. Confinement in a confined space is essential to paper-train the adult dog or puppy. Otherwise it does not know what the owner wants him to do.
Confinement can be in various forms:
1.1. A small room e.g. kitchen, bathroom, balcony where it is easier to clean as the floor is tiled.
1.2. A crate or cage
1.3. Being tethered to the leg of the dining table or hook on the wall (for a small breed) so that the puppy has only limited area to move and eliminate.
1.4. Being tethered to the owner's waist for similar reasons as in paragraph 1.4.

2. Use a baby-gate to let the puppy can see the family when it is confined in a small room as puppies are social animals.

3. In your case, despite confinement, your adult male dog pees outside the newspapers at various spots. The reason is due to his natural instinct. He needs to urine-mark in his confined area to mark his territory. Some first-time puppy owners have told me that the puppy or dog is wilful as he is home alone or not given attention or has regressed in his

toilet training

. To human beings, this seems to be the logical explanation.

Very young male dogs may still squat to urine-mark. Some owners tell me that the dog in such situations is not urine-marking. However, many will know how to lift up their leg to urine-mark on vertical walls or objects as they mature or see other male dogs doing it when taken out for a walk.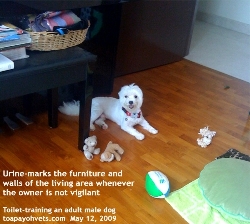 The suggested solution in your case is:
1. Be perpetually vigilant. Give the dog a loud "No marking" command when he attempts to do it. He will try again and again whenever he can if he is the alpha-male personality. He just has to do it.

2. Bring him outdoor every day, 2-3X per day (if only it is possible for you) so that he can "urine-mark" outdoors.

3. Crate him at other times when you are unable to monitor him for the next 4-8 weeks (<4 hours). Leaving him home-alone inside the utility room may frustrate you sooner or later. I notice a lot of temptations for the dog --- so many shoe-boxes ready to be urine-marked!

My consultation room's drawers were once urine-marked by a client's male dog and all my documents were stained yellow! I was not vigilant for a second and that was terrible for me as I had to throw away all my dog vaccination papers.

4. If you touch other dogs or be in the company of other dogs, your male dog may feel the need to urine-mark or grip your legs or mount the pillows (in some of my cases).

OR

3. Neutering and bringing him outdoors as proposed for the Miniature Schnauzer in Case 1.
Thank you for your permission to use your pictures for the article. Best wishes.
The adopted adult dog urine-marks. Therefore, he cannot be permitted access to the kitchen when he is home-alone. He is kept confined to the utility room and is supposed to pee onto the newspapers in the nearby bathroom. A door separates the kitchen from the utility room in Singapore's modern condos. Neutering will reduce urine-marking urges. A routine of going outdoors to eliminate or to urine-mark is a solution some owners undertake. With time and training, neutering and this routine will eliminate indoor urine-marking.